INCREASE - Intelligent Collections of Food Legumes Genetic Resources for European Agrofood Systems
Created March 2, 2022, 1:05 p.m.
Updated Dec. 1, 2023, 2:18 p.m.
==> 4th round of INCREASE CSE registrations NOW OPEN: 27 November 2023! <==
==> The deadline is 29th of February 2024 <==
Human plant protein intake is on the rise in many EU regions and the market for meat and dairy alternatives is undergoing annual growth rates of 14% and 11% respectively. In order to face the increasing demand for innovative products and comply with the citizens' demands for healthy and environmentally friendly foodstuffs, novel varieties are needed and existing genetic resources in crop breading must be properly exploited. The characterisation and maintenance of food legume genetic resources and their exploitation in pre-breeding form the core development of both more sustainable agriculture and healthier food products.
Focusing on chickpea, common bean, lentil and lupin, INCREASE will implement a new approach to conserve, manage and characterise genetic resources leading to benefits on different levels. These species represent a cross-section in terms of their potential value for sustainable food production, and they are all strongly linked to the European food tradition and needs, with significant options for EU agriculture.
INCREASE is guided by the European Commission principles "open science, open innovation and open to the world" and takes advantage of digital technologies to make science and innovation more collaborative and global. For this purpose, the project tests a decentralised approach to the conservation of genetic resources by setting up a Citizen Science Experiment. The aim is to spread knowledge about legumes biodiversity and to involve citizens in evaluation and conservation activities as well as in sharing and exchanging seeds via a specifically developed INCREASE mobile app.
Visit our YouTube Channel to watch many videos about INCREASE and the Citizen Science Experiment!
Aim
The main aim of INCREASE Citizen Science experiment is to involve citizens in evaluation and conservation activities as well as in sharing and exchanging seeds, in order to apply a decentralized conservation of food legume genetic resources. Science is not limited to scientists. Everyone can get involved. With a specifically developed App (INCREASE CSA, www.pulsesincrease.eu/experiment/app) each participant can register and voluntarily contribute to the charterization and evaluation of common bean varieties grown by the citizen itself.
How to participate
Go to your App store (Google Play or Apple App store) and search for INCREASE CSA.
Download the INCREASE CSA App and install it on your smartphone.
Register by entering a login email address and password.
Proceed to the registration of the Citizen Science Experiment by providing the required info for the shipping of your seeds
Easily sign the eSMTA (Standard Material Transfer Agreement e-doc in the App, regulating the seed exchange between the INCREASE-provider and the Citizen-recipient, more info INCREASE SMTA) and receive the seeds to start the cultivation (6 different bean varieties, from 5 to 10 seeds per variety).
Nurture your beans, collect and record information (data and pictures) about them using the INCREASE CSA App that will constantly be updated with the necessary functions, suggestions and tutorials
Suggest tips and best practices, e.g. as text, images and videos, that could help other participants via the App
Harvest the seeds, cook, taste and share them with other participants
Different calls will be published every year. The deadline to register for the active call (4th round of INCREASE CSE, opening the 27nd of Novembre 2023) is 29th of February 2024.
Citizen participation is a on voluntary basis and NO financial contribution is required.
Needed equipment
The citizens need access to a field, garden, terrace or balcony where to cultivate the bean varieties.
A smartphone and the App INCREASE CSA are needed to register, to participate and to provide all the info collected during cultivation.
Bean seeds will be shipped to participants, and plant grow and cultivation will be carried out using own materials (e.g. soil, pots, stick as plant support, etc... the material needed is depending on where and how the experiment is conducted by each citizen)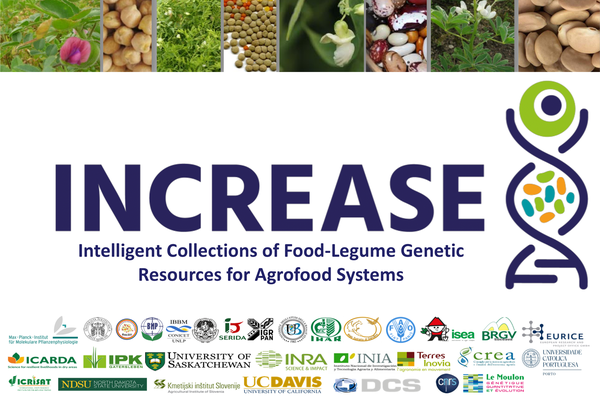 Active
from 01/05/2020 until 30/04/2026
Keywords
Science Topics
Tags
Difficulty Level
Participation tasks
Coordinator
Other Organisations involved
Location