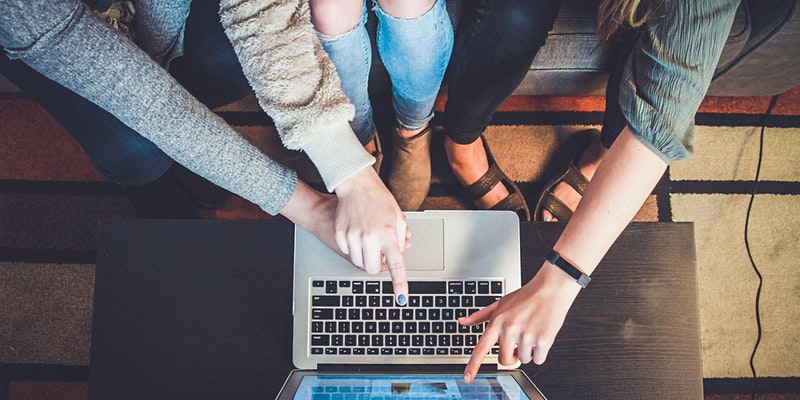 Webinar on the topic of Learning & Education in Citizen Science
Francisco
June 23, 2020, 2:05 p.m.
Online Citizen Science and Learning
by Claire Ramjan (University of Stirling, @ClaireRamjan) & Julia Lorke (Wissenschaft im Dialog/ Bürger schaffen Wissen, @kleines283)
Episode 1 on the topic of Learning & Education in Citizen Science
Have you missed the live webinar or want to watch it again? Find the recording of the webinar here.
Welcome to our blog post about the ECSA and EU-Citizen.Science webinar on 'Learning & Education in Citizen Science'. We are delighted to have hosted the first of what we hope will become a series of regular online events enabling the citizen science and learning community to share their work and raise awareness of projects, research and resources with each other and the wider citizen science community. This webinar was initiated by members of the ECSA working group on "Learning and Education in Citizen Science" and the Citizen Science COST Action WG2 - Develop synergies with education.
This short blog post includes an overview of the research studies presented by our fantastic three speakers and links for you to find out more about them and their work, followed by a summary of the question and answer session. We would love to hear your thoughts on how we can follow this up with more webinars on the topic of Learning & Education in Citizen Science – there is a link included at the end to a google form for any ideas you might have for speakers (we would especially love to hear about YOUR research!) or topics that you would like to hear discussed in the series.
Our expert speakers
We were delighted that Dr Maria Aristeidou, Dr Christothea Herodotou and Dr Till Bruckermann agreed to present their work for us.
Maria told us about her paper entitled "Online Citizen Science: A Systematic Review of Effects on Learning and Scientific Literacy". This review study is based on 10 papers that investigated learning in online Citizen Science projects and provides insights into the methods that were used and the results that were gained in these studies. The review offers an overview of what is known in the field so far about effects on attitudes towards science knowledge, generic knowledge, topic-specific knowledge and the nature of science. Maria also emphasised the gaps in our understanding, calling for more long-term investigations, control groups and studies with a focus on young people.
Thea told us about her study: "What Do We Know about Young Volunteers? An Exploratory Study of Participation in Zooniverse." This work was conducted as part of the LEARN CitSci project and investigates youth participation in Natural History Museum-led projects. Thea shared the insights into what participation looks like in such projects and how youth participation can be characterised based on the study's findings.
Till told us about a project that he is working on entitled, "Investigating engagement in online citizen science and its relation to participants' individual learning outcomes". This study reveals differences in learning outcomes based on participation in data collection or data analysis. This part of the webinar was not recorded as the work is currently under review for publication, as soon as this becomes available, we will add the link to the publication here. You can find out more about Till and his work here.
Questions and contributions from the attendees
There were two approaches taken to the Q&A session, firstly the webinar participants were able to post questions to our presenters during their presentations, many of these were responded to directly in the Q&A discussion box; and secondly we had a short discussion with the presenters at the end of the session. Finally, a participant of the webinar, Jacob, shared a project that he is currently working on which related to some of the questions asked about Citizen Science and classroom learning, Science at home, which we will summarise here.
So firstly, the written Q&A.
Q1. Can you describe some of the "external resources" that increase engagement and some of the ways that the scientists communicate with participants (email, social media, etc.?) – Daniel
Maria: The external resources as reported in Kloetzer, Schneider, and da Costa (2016), were talks given by scientists, conferences and meetings, blogs, and scientific papers and the engagement tools, as reported in Masters et al. (2015) were social media and blog posts.
Q2. Did you also look at what scientists have learned or did you focus on the allegedly lay participants only? – Michael
Maria: There was no specific reporting on what the scientists learned in the reviewed papers. I'd say they were mainly interviewed to report on what they think citizens have learned. As there is so much rhetoric how much scientists learn from volunteers outside academia the topic Michael suggested would be very interesting for future research.
This paper was suggested as further reading on this topic.
Q3. Have any of the presenters considered using MOOCs in their work to reach, provide training and collect CS data from a wider audience? - Raquel
All: We are considering MOOCs as way to train people about how to set up investigations on nQuire.org.uk - nothing tangible yet. The WeObserve H2020 project has a MOOC (starting Sept 2020) on creating Citizen Science projects on the FutureLearn platform. It might be of interest to nQuire and other members of this working group. Please see the course landing page here.
Q4. Within the written Q&A, there were a number of questions that related to engaging young people in Citizen Science, in terms of their learning experiences, their perception of value, and the differences between adult and young volunteers and Citizen Science in the classroom. As this was clearly an area of interest for many participants, we opened this up to our presenters to offer their experiences in this area.
Maria: While young people are volunteering to participate in Citizen Science projects, research into the differences in patterns of participation and engagement among young people in comparison to adults progresses, and this might mean that changes to the design of Citizen Science may be needed to appeal to and encourage longer-term participation in young people.
Thea: Young people in her my research have been essentially self-selecting and as such have an existing interest in science. Finding out more about a wider spectrum of young people would be of interest. I suggest that teaching children about CS as a way of democratising research or as a way of raising their voice can lead to more responsible or responsive citizens, to show how young people are thinking about their role in society in the future.
Maria: Working with young people in Citizen Science raises ethical challenges involving parental consent to participate.
Thea: The ability of young people to reflect on what or how they are learning can be varied and there might be an important opportunity to utilise Citizen Science implementation within the classroom giving the opportunity to observe them while participating and to conduct more objective evaluations of learning.
This discussion led to Jacob taking a few moments to describe how the 'Science at Home' project looks to take online Citizen Science games and integrate them into the school science curriculum. The project will undertake a randomised control trial in 150 schools in Denmark, analysing both implicit and explicit learning outcomes. It aims to create a clear link between the complex interactions that exist within in a Citizen Science project and the core curricular components. The suggestion is that Citizen Science offers a means of implementing enquiry-based science education in a way that is an authentic reflection of the many components of the scientific cycle. You can find out more about the 'Science at Home' project here.
Next Steps
Thank you for your interest in our webinar, we hope that it has given you some interesting ideas to think about. A huge thank you to our presenters and to ECSA for their support. Please get in touch to suggest presenters or topics for discussion at future webinars about Citizen Science & Learning/Education. We would love to hear about the projects that are exciting you at the moment. You can find the link to the google form to suggest topics and speakers here.
Would you like to know more?
Have a look at the presentation slides or contact the speakers directly:
Maria Aristeidou – slides, email, twitter handle: @aristeidoum
Christothea Herodotou – slides, email, twitter handle: @herodotouc
Till Bruckermann – slides will be shared upon request, email
---