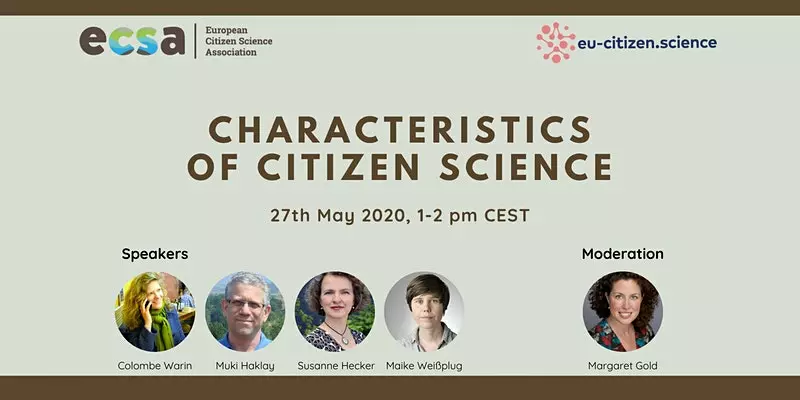 Register now for the first EU-Citizen.Science and ECSA joint Webinar
Lucie Steigleder
May 22, 2020, 12:41 p.m.
The first joint webinar EU-Citizen.Science & ECSA is now open for registrations!

After the recent publication of the 'Characteristics of citizen science', members of the working group which produced this document will present the output of this community-based effort to outline what can be characterized as citizen science.
On 27 May at 1PM (CEST), join this free event to find out more and ask your questions about this publication!
If you can't join us at this time, follow #EUCitSci on social media and stay tuned for the publication of the video on our platform.
Speakers:
Colombe Warin, project advisor at the European Commission
Muki Haklay, co-director at ExCiteS at University College London and vice-chair of ECSA
Susanne Hecker, research associate at the Helmholtz Centre for Environmental Research, and a member of ECSA's board of directors
Maike Weißpflug, researcher at the Museum für Naturkunde Berlin
Mediator
Margaret Gold, project officer for ECSA
The event is free to attend and once you register you will get the link to the seminar room which will be held on Zoom. Registration will close 5 minutes after the start of the webinar and will be closed for access 10 minutes after the start.
---