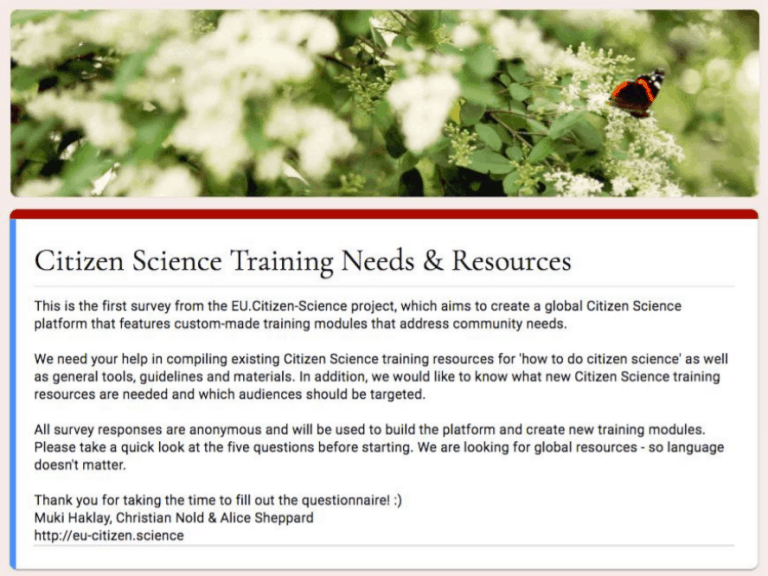 Report in training needs
Editor
March 31, 2020, 4:09 p.m.
The deliverable D5.1 Report in training needs combines four elements: a review of the socio-demographic context of citizen science, a literature review of learning in relation to citizen science, a community survey of training needs and a detailed analysis of a set of training resources. These four activities identified five distinct clusters of training needs/gaps:
Scientific Training: topic-specific training that targets scientific methodologies and issues.
Volunteer Management Training: topic-specific training that targets the engagement, maintenance and management of volunteer participants.
Critical / Reflexive / New Possibilities Training: is training for unrepresented & critical agendas as well as the inclusion of marginalised groups in citizen science such as art and culture, activism & social justice, ethics and legal questions as well as practical crafting and 'making' skills.
Schools Training: audience-specific training that is the most tightly focused training in that is targets teachers and young people in formal education.
Practical / Operational Training: training that covers the practical and operations processes, methods and tools required to run and communicate citizen science projects.
The majority of the training material analysed requires at least one hour of training with some requiring more than a day to complete, which is a significant time investment. This research sets the foundations for a typology of citizen training needs that will be presented in forthcoming deliverable D5.2.
As with all public deliverables from the project, you can download it from our project archive on Zenodo.
Picture: Screenshot of the Survey Form
---